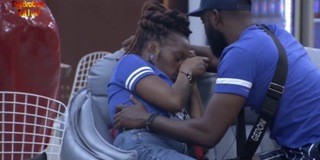 On Sunday, Khafi had answered in the affirmative when Ebuk asked if her heart had been arrested by Gedoni. Fast forward two days later and it seem the Khedoni ship is sinking. The two had visibly kept a certain distance after that day where Gedoni also shed tears over the eviction of KimOprah who is his ex girlfriend.
In a conversation with Omashola, Khafi expressed how sad she felt over the distance. In his response, Omashola said he noticed the distant communication between the pair and had told Gedoni to address the issue with Khafi. This conversation prompted Khafi to address the space in their situationship.
Khafi felt her answer to Ebuka's question scared Gedoni and went on further to say;
"It felt like you only used me to get over KimOprah and now that she's gone, you're done playing the game", said Khafi as she revealed her fears. Gedoni in his reply said he has always had issues in his past relationships as a result of getting easily misunderstood. He also blamed the rain for his moody behaviour in the House and promised he didn't keep his distance intentionally.
"I won't make you feel that way again", said Gedoni, while he tried explaining the reason for the rift between them. Emotional Khafi burst out in tears as she kept on revealing her fears about getting emotionally attached to him – which birthed a cuddling moment between the pair. Is Khafi choking Gedoni in the house seeing as they have only known each other for two weeks?
Not yet a Bet9ja Member? Sign up today and get your 100% Welcome Bonus, the biggest welcome offer in Nigeria. https://register.bet9ja.com/?promocode=BBNBLOG