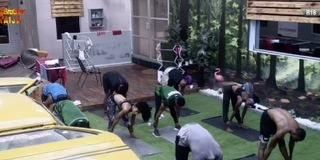 Mike and Omashola got into an altercation yesterday morning after their workout session. The drama between the two actually started from a mild confrontation between Seyi and Omashola.
During the workout session Omashola had called out to Seyi with the aim of correcting one of his workout mistakes. Seyi however paid him no mind. Later on the fitness trainer told the housemates to put their hands on their calves. Omashola however placed his hands on his ankle to which Seyi also then made it clear that Omashola was also making a mistake. Talk about being petty! This led to a little bickering which might have irritated Mike who told them to cut it out. Omashola was not having this at as he told Mike to "Shut the f**k up".
After their workout session however Omashola kept on ranting about Mike saying he was the cause of the drama earlier. Mike however told him to come say it to his face and also told Omashola he was bickering like a 15 year old girl in heat. Talk about dishing it hot. Mike is not even letting small play pass him by. lol!!! What's most surprising though is the fact that they both had a movie night out the day before.
Not yet a Bet9ja Member? Sign up today and get your 100% Welcome Bonus, the biggest welcome offer in Nigeria. https://register.bet9ja.com/?promocode=BBNBLOG