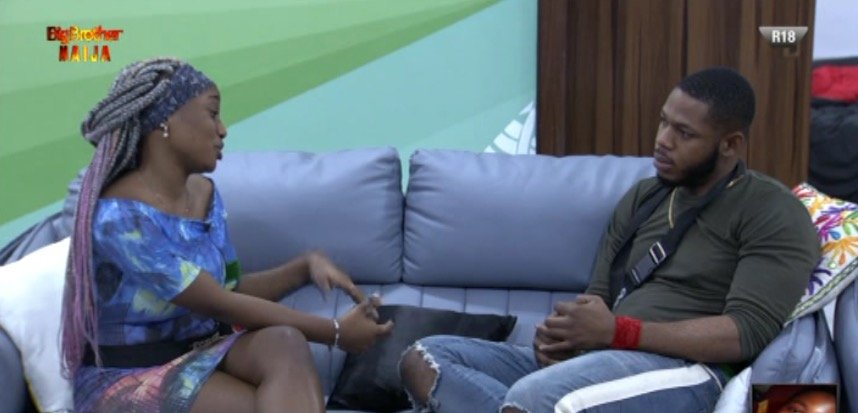 Esther and Frodd's relationship has a series of red flags which has left both housemates and viewers wondering if it is really a relationship or a situationship. The journey of love or what seems like it, started with Frodd telling Esther about his feelings with the latter turning him down and leaving him in tears.
Esther moved on to a relationship with Nelson but that didn't last long as he got evicted. Frodd also moved on and it seemed Venita was going to be his new squeeze. However Esther came into the Frodd's life again this time telling to not give up on what he loves the most. It was definitely a green light to Frodd who waisted no time and left Venita for Esther. What seemed like a happily ever after story has some what turned into another game in Biggie's house.
The relationship between the two is more or less a relationship between an obsessed partner (Frodd) and a manipulative partner (Esther). When asked by Ebuka about her feelings, Esther agreed that the feelings Frodd had for her was mutual and that she grew to understand him. She was also quick to add that this mutual feeling was fostered by the confined space they were in. So is she saying the love is going to die outside the house?
Even fellow housemates Mercy and Diane have both agreed on the fact that Esther is only stringing Frodd along for the game only. "She's acting just to be seen around him always," said Mercy to Diane while speaking on the issue. "Esther thinks that being in a relationship will get her more fans outside the House because she thinks the audience will appreciate couples more."Mercy continued saying on the couple.
What are your thoughts on Frodd's debacle? Is Esther manipulative or truly in love and will Frodd find out early so his heart does not get broken.
Not yet a Bet9ja Member? Sign up today and get your 100% Welcome Bonus, the biggest welcome offer in Nigeria. https://register.bet9ja.com/?promocode=BBNBLOG