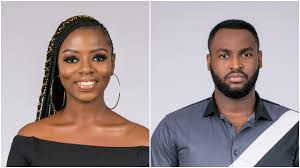 Tuoyo, Sir Dee and Nelson have one thing in common and its their affection for Diane. Diane finally decided to address the issue yesterday when she spoke to Tuoyo about their closeness.
Here, she made mention of the fact that the guy who claimed likes her, wasn't reflecting his feelings in his actions towards her. In addition, the Housemate in question was emotionally involved with another lady in the House. Obviously this non other than Nelson whom she later spoke to and clearly stated her feelings for him stating; : "If I say I like you, then I mean it".
Nelson apparently nursed his displeasure in Diane's closeness with Tuoyo – to buttress his point, he revealed how uncomfortable he felt seeing Diane and Tuoyo's intimate dance during the Saturday Night Party.
The emotional outburst ended in an even more awkward moment when Nelson told Diane that they should just remain friends, till anything else springs up between them".
As for Sir Dee, well she already said he was like a brother to her on Sunday right? So be is probably chilling in that zone therefore she did not have conversations with him.
Not yet a Bet9ja Member? Sign up today and get your 100% Welcome Bonus, the biggest welcome offer in Nigeria. https://register.bet9ja.com/?promocode=BBNBLOG