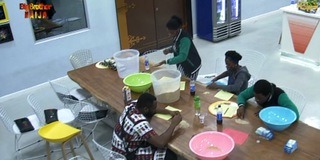 Biggie yesterday punished housemates of the #Bet9jaBBN house for some unpleasantness at their debate on thursday's task. Even though they won the wager put on the task, Biggie still wanted them to understand the consequences of their actions.
Their punishment however took a twist when he asked for just 4 representatives to carry out the punishment. No one knows if they thought there was some sort of reward attached to this but Khafi, Seyi, Diane and Nelson stepped forward.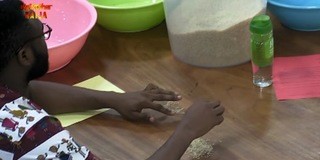 Just when they were feeling like heroes, Biggie hit them with their burden. The punishment Biggie gave the volunteers was to count the rice grains in a large bowl and divide it equally into four smaller bowls. To make matters worse, Biggie gave strict instruction that the other Housemates should not contribute in any way. Talk about a strong case of "Na only you waka come". Do you think Biggie would reward the four chosen Housemates with any reward? ?
Not yet a Bet9ja Member? Sign up today and get your 100% Welcome Bonus, the biggest welcome offer in Nigeria. https://register.bet9ja.com/?promocode=BBNBLOG