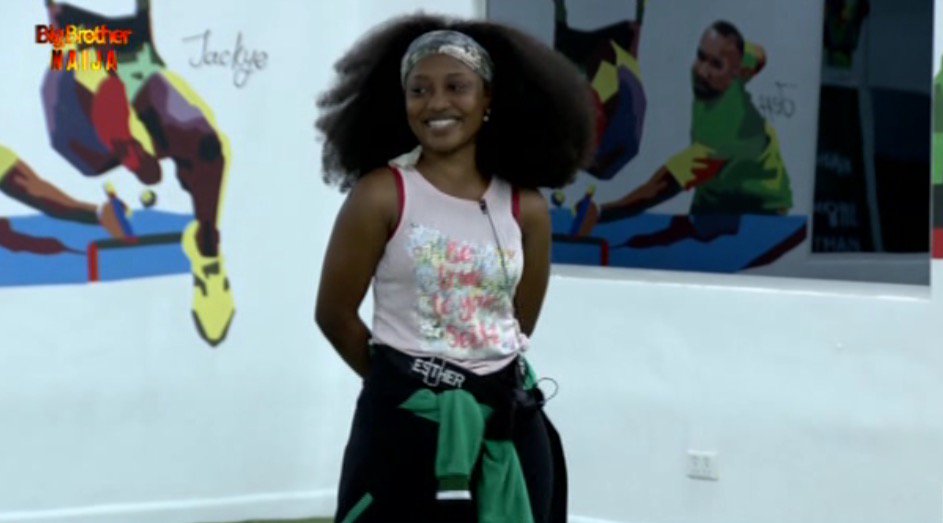 This week Esther took charge of the activities in the Bet9ja BBN house when she won the Head of House task and her reign has been considered by fans to be of a very different nature which has actually led to some wins and discipline in the house.
Unlike her predecessors Jeff and Nelson, who were diplomatic in their administration, Esther took a more direct approach. Her lack of patience for nonsense and distractions was quite evident as she looked at Tacha and said "… We've heard you, Mercy you will now be in charge of the kitchen." She made this decisive decision when Tacha was about to make a mountain out of the kitchen duties. The other Housemates had a dose of the Iron Ruler's wrath as she shouted at them for being a clog in the wheel of the Task execution. Even with her recent soft spot for Nelson, she doesn't hesitate to rebuke him for making attempts to pull her wig off.
Though she has been strict with the other Housemates since wearing the HoH crown, Esther's reign isn't all about fire and brimstone after all. Through her toughness, she has demonstrated what it takes to be a go-getter. Her reactions to events in the House over the past two days have shown a fierce Esther. From her decline of Frodd's spray starch request to ensuring compliance and seriousness during rehearsals, she has proven to us that her reign was different from the previous ones.
Even when she wanted to drive home her point and our peppery Tacha nearly stood in her way, her "Can you let me finish before you respond?" was enough warning to any other Housemates who might want to test her patience.
But amidst all the toughness and seriousness, Esther was a good leader. Her determination to impress Biggie so that they could win back their Wager knew no bounds. Not only was she able to carry the other Housemates along in the preparation for their music Task, but she was also able to do so not minding whose toes were stepped on.
Not yet a Bet9ja Member? Sign up today and get your 100% Welcome Bonus, the biggest welcome offer in Nigeria. https://register.bet9ja.com/?promocode=BBNBLOG